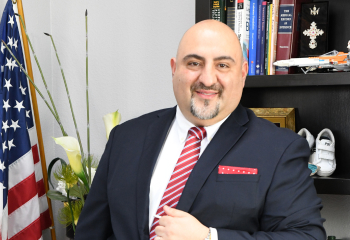 Alexander McTarian is the founder and managing attorney of Nevada Legal Group. Alexander has been practicing law since 2014. He currently represents Business clients and clients that have sustained serious injuries caused by negligent and reckless individuals.
Alexander obtained his Bachelor of Arts degree in University Studies with a concentration in Biology and Business from the University of New Mexico in 2009. Soon after graduation, he moved to Newport Beach, California and attended Whittier Law School where he was able to obtain his Juris Doctorate in 2014. Alexander was on the Dean's List and Honor Roll while attending Law School.
Upon receipt of his JD, Alexander and his family moved to Albuquerque, New Mexico where he passed the Bar Exam and practiced law for one year establishing himself within the legal community as an aggressive criminal defense lawyer and avid trial lawyer. Alexander move to Las Vegas, Nevada where he established Nevada Legal Group in 2017 and has been residing there ever since. He began practicing business law representing the interests of hundreds of small businesses in the Las Vegas valley. Shortly thereafter, Alexander discovered a passion for the field of Personal Injury and expanded his practice. Not long after, the firm also expanded to provide immigration legal services. Alexander prioritizes pro-bono work and provides hundreds of hours of free legal services.
Alexander is a member in good standing with the State Bar of Nevada and New Mexico State Bar Association. He is also admitted to practice before all District Courts in the State of Nevada, the U.S. Federal District Court for the District of Nevada, the District Courts in the State of New Mexico and the U.S. Federal District Court for New Mexico.
Alexander is married and has four beautiful children. His family is everything to him and is the motivation for what he does. He enjoys playing tennis, fishing and traveling on his free time.
GET YOUR
FREE CONSULTATION
available from 10:00 – 19:00
Address 9818 East Burnside
Street Portland, Oregon 97216